Call Telford 01952 583115 or Shrewsbury 01743 358887 to speak to one of our Removals and Self Storage experts.
We match like-for-like quotes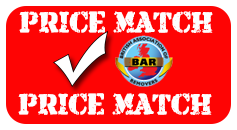 Wrekin Removals can move you anywhere in the EU, or just down the road. Want to know exactly how much your removal will cost?  Why not book a FREE no obligation home survey for an accurate quotation.  We'll provide a written quotation for your house move. On top of this, we will match any like-for-like quote from a BAR company.
We will also match any BAR member prices for Self-Storage, ensuring that you are getting the best price possible.
Self Storage in Telford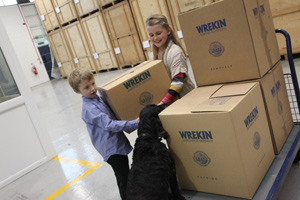 Our self-storage facility in Telford can help you store almost anything. Within our 20,000 square feet of storage we have over 100 individual self-storage units, as well as a temperature controlled environment suitable for motorhomes, vintage cars and speedboats in a secure environment. We can offer out of hours access, just Contact Us!
Find Us
Wrekin Removals
Wrekin House,
Unit C,
Halesfield 10,
Telford,
Shropshire
TF7 4QP
Telford: 01952 583115
Shrewsbury: 01743 358887

Self Store access hours:
Monday to Friday 8am – 5:30pm
Saturday 9am – 3pm, Sunday – Closed
Free Moving Checklist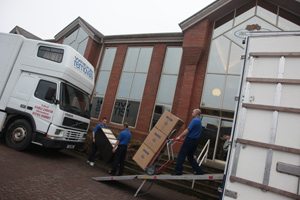 Wrekin Removals have taken peoples precious belongings all over. We have the experience to make your removals as stress free as they could ever be and we've used our experience to produce a handy guide of things to remember when moving home.
In Safe Hands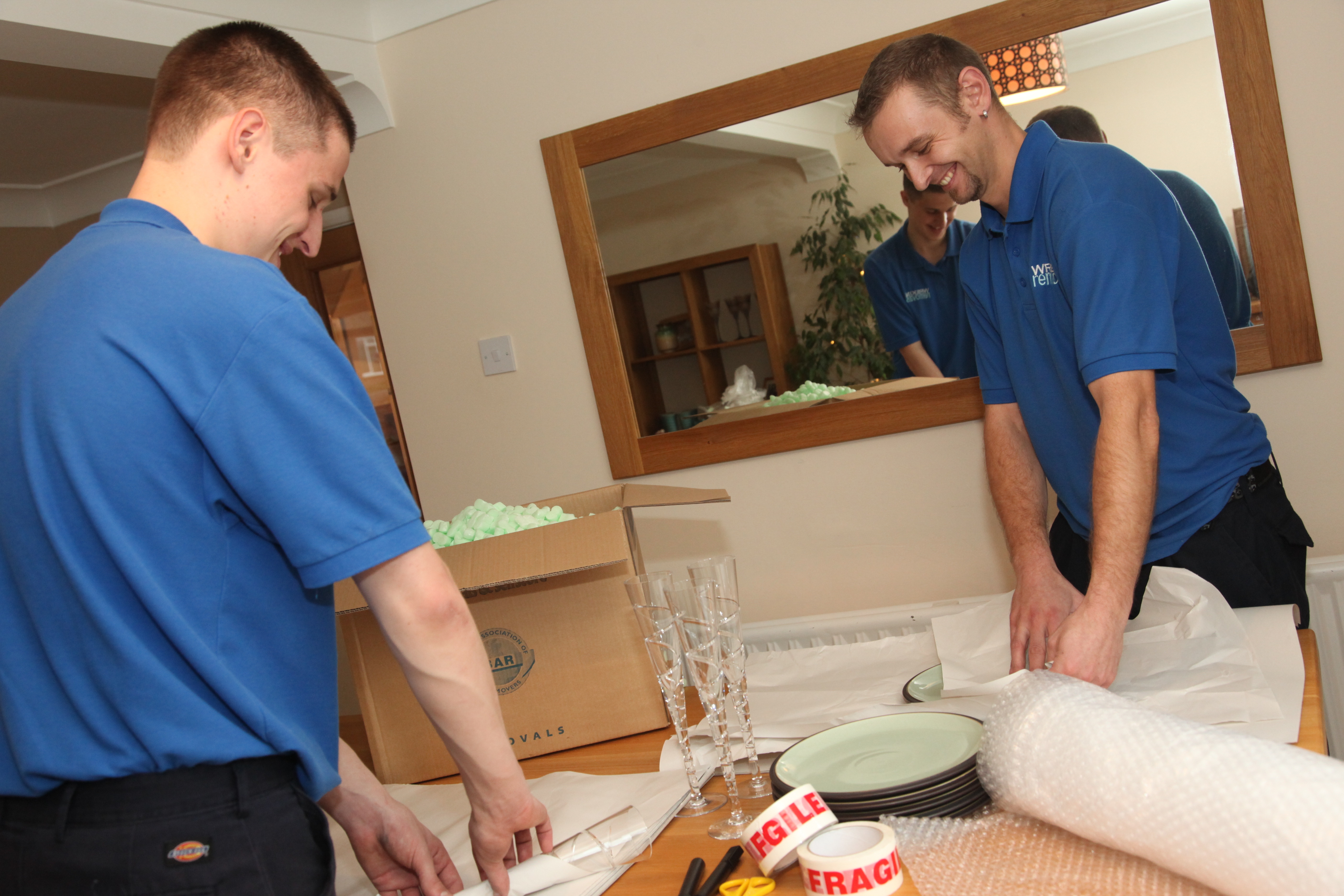 We have over 10 years experience and are members of the British Association of Removers, ensuring that your move goes as smoothly as possible. Our self-storage premises also offer numerous storage areas for specialist vehicles and documents and is equipped with the most up to date fire, security and CCTV surveillance systems which are supported by a round the clock monitoring system.
Wrekin Removals is a family business with the management utilising many years of experience within the industry.
The foundations of the company are based upon a total commitment to provide customers with a personal, professional, and quality service.
 Over 10 years experience within the industry.
 Courteous and friendly service assured.
 Quality recyclable modern purpose designed packing materials used.
In February 2010 the company moved to prestigious new premises in the Halesfield area of Telford, Shropshire and Wrekin Self Storage was launched.
This impressive new facility now enables the company to offer numerous storage options including: self storage, containerised storage, motorhome, speedboat, vintage car, archive and document storage etc.
The premises are temperature controlled and boast the most up to date fire, security and CCTV surveillance systems which are supported by a round the clock monitoring system.
Wrekin Removals specialise in self storage in Telford, Shropshire and house or commercial removals from our Telford self storage premises. Our facility boasts room to store all manner of your belongings, from a cupboard to a full house we can store it and move it all! For any sizeTelford removals, or to self store in Telford, we have a number of easy and affordable solutions for your house move.
The first step in your move will be a visit from a Wrekin Removals Representative to carry out a pre-move survey.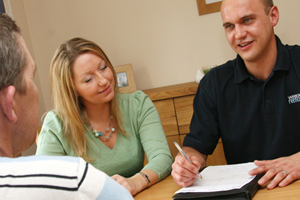 This is so we can determine your exact needs allowing us to provide you with an accurate quotation.
Your representative will listen to any concerns you may have and will talk you through the entire moving process, including a full explanation of your insurance options. He will calculate the measurements of all items to be moved and will discuss any specific requirements.
If you need some items to be stored, or moved to a different address and if you are moving overseas, certain items will require special packing and/or crating. Your representative is specially trained to ask you the right questions and give you all the advice you need to help takes the stress out of your move.
Following this meeting, you will be provided with a clear, concise written quotation with a breakdown of all costs together with any supporting information you may need.
Wrekin Removals representatives are experts at determining your exact needs, whether it's self storage, removals or packing your possessions, we can do it all right here in Telford! Our survey can help you decide whether to self store in Telford, or go straight ahead with a Telford removal if you have not made your mind up yet.
Post Office redirection service
Doctor/Healthcare/Dentist
Vet
Pharmacy
Schools
Insurance Companies (Buildings, contents, cars, life, pets, travel)
Banks/National Savings
Pension
Loans
DVLA for motor license and driving license
Internet service provider
Milkman/Newspaper delivery
Gas
Electricity
Water
Telephone
Satelite or cable company
TV Licensing authority
Store loyalty cards (Nectar, Boots, Advantage, Tesco etc.)
Club membership
Employers
Before the move
Arrange for disconnection of all kitchen appliances on the day prior to the move, including securing washing machine drums.
---
Start to run down freezer stock. Manufacturers advise against moving freezers unless empty and de-frosted.
---
Bring down any items from the loft.
---
Dismantle all self-assembly furniture unless the removers have agreed to do so.
---
Unless included in the property sale, have all TV and other aerials taken down.
---
Dismantle sheds, greenhouses, climbing frames, trampolines unless the removers have agreed to do so.
---
Draw a floor plan of your new home with your items marked in position and give a copy to the crew on the day of your move.
---
Advise your removal company of any access problems both at your old and new home. Where appropriate arrange for roads to be coned off via the police.
---
Obtain suitable cages/boxes for your pets. The transportation of your pets cannot be undertaken by the removal company.
---
Make arrangements for overnight accommodation if your move is to take more then one day.
---
The Day Before the Move
Defrost freezer and fridge.
---
disconnect audio/TV/Video/PC equipment to be prepared for transit in accordance with the manufacturers instructions.
---
Take down fixtures and fittings eg mirrors, towel rails, curtain poles etc.
---
Arrange for any carpets to be removed to be professionally loosened unless the removers have agreed to do so.
---
Arrange for the transportation of any dangerous substances, eg gas bottles
---
Seal all packets and jars of food
---
Remove lampshades for lights
---
Prepare plants for moving eg provide cane supports for large indoor plants and thn place in heavy duty polythene, protect dried flowers.
---
Drain fuel from lawn mowers, motorcycles, mopeds, scooters etc.
---
Pack a bag of personal items (change of clothes, toiletries, medical kit, medicine, food and drinks) Keep in an easy to find place.
---
For children pack a bag of games and activities for the trip
The Day of the Move
Lock valuables and personal documents away in the car.
If your possessions are being stored, remember to retain any items you might need eg passport, driving license.
---
After loading check that everything has been removed from your property as a return journey cannot be made.
---
Ensure the driver has directions to the new address and agree a time to arrive.
---
Advise the crew foreman of a telephone number on which you can be contacted.
---
Make sure you leave your property secure and hand over the keys to the estate agent.
---
Aim to arrive at your new home ahead of the removal vehicle and park leaving easy access for the crew.
---
Label all rooms and direct crew for positioning of items in each.
---
Make beds hang bedroom/bathroom curtains and locate refreshments
---
Relax and enjoy your new home
New Self Storage Facility in Telford Now Open.
Wrekin Removals is delighted to announce the recent opening of their prestigious new premises in Halesfield, Telford.
Wrekin House boasts approximately 20,000 square feet of premium storage space and houses over 400 purpose built self-storage units which range in size from 10 to 200 square feet over 2 floors.  The self storage facility occupies only a fraction of the total space available leaving more than ample capacity for the Wrekin wooden storage containers along with a dedicated area for the safe storage of motor-homes, vintage cars, speed boats etc in a temperature controlled environment.
Whatever your needs, Wrekin Removals can provide safe, purpose built professional storage. There are many reasons why you might need to store furniture and effects; between moving homes, a temporary job posting, whilst renovations or repairs to your home are carried out, or simply due to lack of space. Whatever the reason, if you need to store items for a few days, weeks or indefinitely, Wrekin Removals are here to help.
Self Storage – We make self storage really easy. Just about anything can be stored with the obvious exceptions such as live animals, stolen goods etc.  A full list can be found in our BAR endorsed terms and conditions.
You can hire a unit sized to suit your requirements.  Wrekin staff will be delighted to assist with determining the most suitable size of unit.
The prices we quote are fully inclusive and contain no hidden extras.  Our rates are very attractive with the added benefit of no security deposit required.
You are the sole key holder of your unit at all times, and can visit as often as you wish within the normal opening times.
You can store for a minimum of 2 weeks or as long as you like.
Please do not hesitate to contact us for a no-obligation quotation, or visit our storage facility during our opening hours for a look round.  You won't be disappointed.
Getting access to your storage unit is easy at Wrekin Self Store.
Self Store access hours:
Monday to Friday 8am – 5:30pm
Saturday 9am – 3pm
Sunday – Closed
Bank Holidays – Closed
Need access out of hours?  We'll see what we can do!
Containerised Storage – How it works is very simple. We will collect the items from you, pack them and wrap them carefully to stop them from getting dusty or damaged and then load them into purpose built wooden storage containers which are sealed before the vehicle leaves. During the loading, a detailed inventory list of all stored items is prepared for you. When the vehicle arrives at the store, the containers are unloaded and stacked carefully in the warehouse where they will stay untouched until you are ready to receive them back. This system involves the minimum of handling ensuring all your items remain safe and secure.
Steel Containers – A quantity of new 20 foot steel containers are available for rent. These steel containers are located in the main yard of Wrekin House.  The area is protected by a seven foot fence along with security lighting.
Archive and Document Storage – The premises are ideal for the safe and secure storage of archive documentation and a delivery/collection service can be arranged if required.
Business Storage – Bespoke, flexible storage solutions for excess stock, seasonal stock, distribution and fulfilment.  Storage solutions for all your business needs.
Security – Wrekin House has recently been refurbished to a very high standard and boasts the most up to date fire, security and CCTV surveillance systems which are monitored 24 hours a day, 365 days a year.
Shop – The Wrekin Shop has on display just about everything you need when moving house, including various size boxes, tape, wrapping paper, bubble wrap, blankets etc.  Even if you don't store with us, you can buy these items – just call in!
Monday – Friday  08am – 5:30pm
Saturday    09am – 3pm
Sunday    Closed
Bank Holidays   Closed
Our self storage facility in Telford is perfectly located for ease of use, and our knowledgeable team are always at hand to assist with picking the right sized unit. Our Telford self storage facilities are second to none, and combined with our Telford removals business, we can facilitate any move, residential or commercial, and can collect your possessions for storage from all over Telford.
We can also come and collect your Telford self storage items. Our fleet of vans can come to any address and help you self store in Telford, or we can use a number of sized vans for your Telford removals. In our Telford self storage, we have a number of units, with only one key holder for each unit. If you would like more information about our self storage Telford service, please give us a call!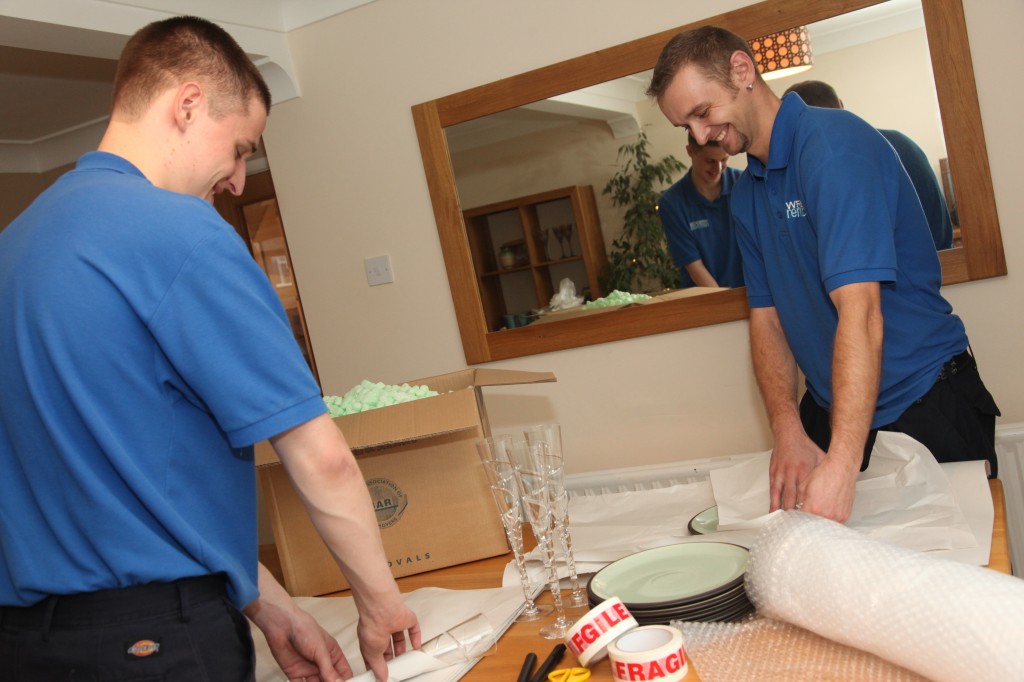 Whether you decide to do your own packing, or you choose our specialist packing service, by using quality fit for purpose materials and cartons, combined with experienced handling techniques, Wrekin Removals will ensure your household effects are transported to your new home as securely and as safely as possible.
Our staff are all uniformed, highly trained professionals who are naturally friendly at courteous at all times. We will tailor the specification to meet your own requirements and budget. This may involve a full packing service; or a partial service where only fragile items such as china and glass are packed.
We have adopted special techniques and packing materials to ensure the total protection of your most valued items whether antique furniture, original paintings or a state of the art surround sound cinema.
If packing yourself, it is a good idea to assess all your possessions and make arrangements to dispose of items you no longer require. Remember to start packing early giving yourself enough time. We will provide you with all the necessary materials such as flat-fold packing cartons, book boxes, hanging boxes for clothes, sealing tape, bubble wrap, lay flat linen cartons and mattress bags.
Remember to clearly label each of the boxes that you have packed showing the contents and the intended location within your new home. This will help our staff to handle your items more efficiently and to ensure that you have settled in your new home as smoothly and as quickly as possible.
Finally, make sure you keep anything you need in your possession on the moving day, such as a kettle and cups, certain foods items or important documents. Label them clearly and put them to one side so that they are not removed by the moving crew.
Our specialist teams can help, and with our Telford self storage we are more flexible than ever! Our Telford removals or self storage Telford team can come and help you pack, then store or move your items, making our service more convenient and as time saving as possible.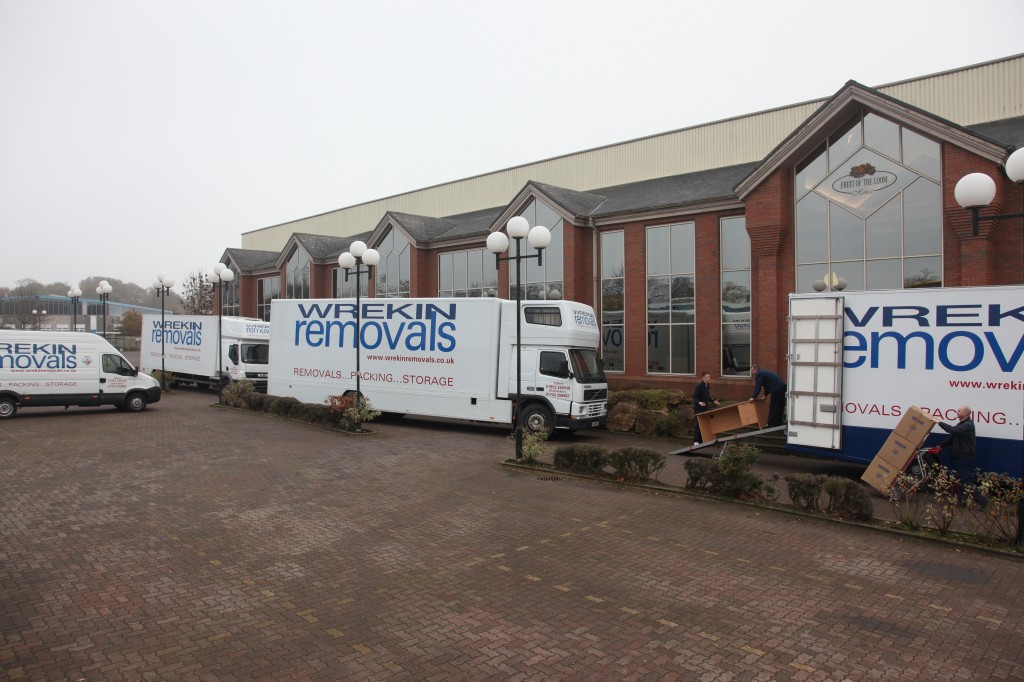 Just as you take pride in, and value your possessions, Wrekin Removals also take pride in our fleet of vehicles.
Wrekin Removals take particular pride in the cleanliness of our vehicle interiors, which are complete with tie-backs to ensure your belongings arrive safely and in the same condition as they were loaded.
Wrekin Removals is based in Telford, and if you are local then we're sure that you've probably seen one! With Telford removals being our main business, we take pride in the quality of our vehicles and always keep them in fantastic condition to ensure that your belongings get where they need to be, in the same condition as when they left!
These are some of the testimonials we have received.
What our customers have to say about us:
Thank you for your excellent service, from your first visit to all the phone calls made to different members of the team, to the final removals. You'll have all been very friendly and helpful, and as for your team (we had Sam Stu and Scott) they were polite, friendly and above all hard working.. I Would highly recommend you and your team. Well done and thank you all. - Lauren Watson

My wife and I would be grateful if you would pass on our sincere thanks to all the staff we came on contact with throughout the somewhat difficult move. Your allocated team including the extra two was a credit to you and the reputation of Wrekin removals. Throughout the protracted period of never Knowing when the move would take place your team always managed to put my mind at ease. - M J Major

We would recommend Wrekin Removals for their excellent service. The staff were friendly and efficient and prompt in their timing, arriving early and completing the Job without any fuss. Well done Wrekin Removals. - Eddie L

Wrekin Removals made my fourth house move in three years the smoothest and most enjoyable one of the lot. Knowing the house would be packed and moved with little effort from us meant we could focus on all of the other little jobs involved in moving house like sorting out the keys and changing our address everywhere. If we move again I will be straight on the phone to Dave! - Kirsty S, Telford

We used Wrekin Removals and Self Storage for our house move and temporary storage. They were competitively priced, easy to contact and very responsive. The men who did the work were cheerful, helpful and quick. I would highly recommend this company. - Mr A

The removals men turned up on time and started work immediately. Everything was packed securely and the house was emptied withing a few hours. Excellent customer service - would recommend Wrekin Removals - Mark P, Wellington
Telephone
Telford:  01952 583115
Shrewsbury:  01743 358 887

Postal Address:
Wrekin Removals,
Wrekin House,
Unit C,
Halesfield 10,
Telford,
Shropshire
TF7 4QP
Email: enquiries@wrekinremovals.co.uk